Video Templates
Titles Pro
Meet Titles Pro, the indispensable pack of animated titles for any project. Here you can find more than 1500 templates, such as:

1. Minimal Titles, Lower Thirds, Sale, Quotes, Callouts – available in the project since the V1; will greately emphasise your project with unique design. Perfectly suits for vlogs or ads – your video will stand out everywhere!
2. Liquid, Digital, Glitch, Kinetic Titles and Ready-Scenes — were added in the V2 update; now you can step to the next level with professional animation – use trendy titles for your digital artwork, social media posts, branding projects, freelance for clients or just for fun!
3. Color, Fashion, Sports, Cinematic, Countdowns, Stomps, Typographic Details, Camera Viewfinders, Backgrounds – are the new categories from our fresh update, V3! Promote your clothing brand or a lookbook with Fashion Category. Run a sport channel with Sports templates. Make a professional movie or trailer with Cinematic titles. Use customised meters, timers and clocks in our new Countdowns category. Create a dynamic title, animated by a character, word or line with the Stomps. Add spice to your design with the Typographic Details Category. Use new camera Viewfinders to add a filming effect. And finally the Backgrounds – different gradients and shapes, divided into light, dark and tinted. Now you can use these animated templates in any area of your work and create a masterpiece never seen before!

Another great feature of Titles Pro – you can combine templates together.
Mix & Match elements to get interesting combinations of templates and save time. You can mix any title with any background and any details template – we designed them to match and work for you.

The project is compatible with 4K, so your titles will look sharp even on a big screen! Our team has made dedicated work to make this update convenient for most users – from pro editors to beginners.

Use it anywhere: Youtube, Instagram Stories or Posts, Blogs, Presentations, Advertising, TV, Movies, Music Videos, Tik Tok or product promos! Titles Pro is designed to suit any task you can possibly have…see for yourself!

And even more than that – all future updates are FREE!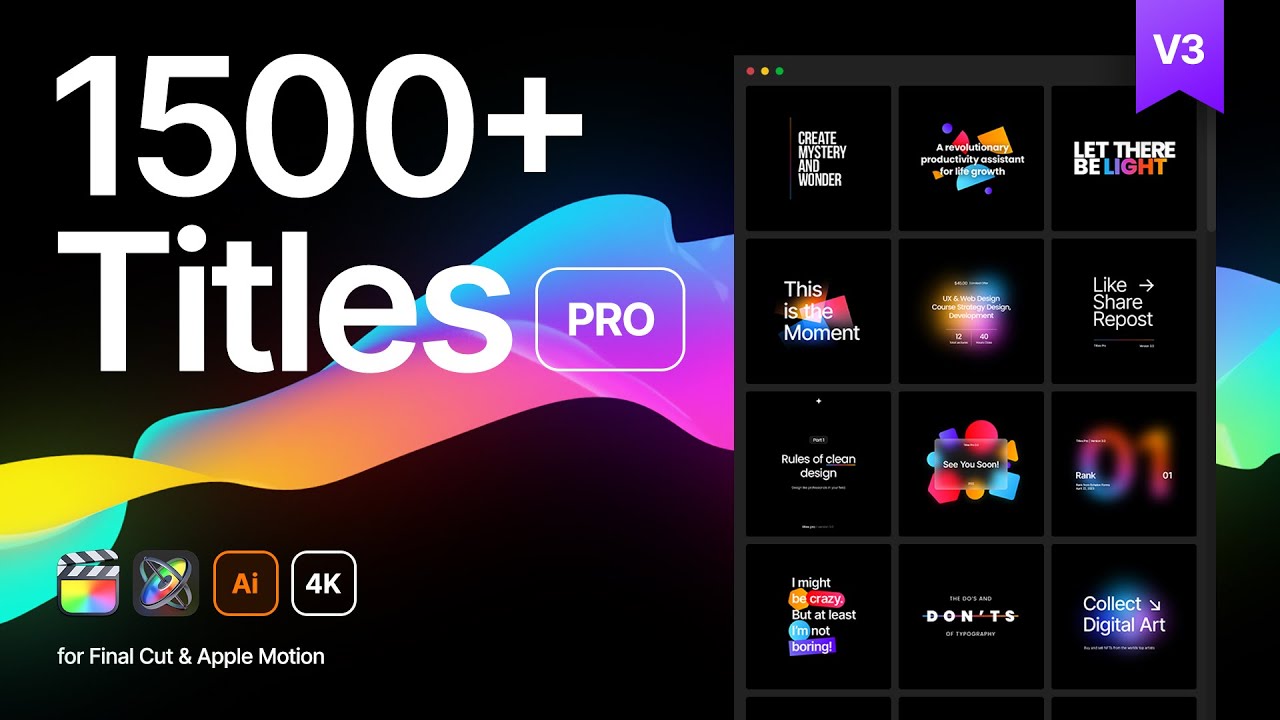 1500+ Elements and 23 Categories
Unique animated titles: Liquid, Glitch, Kinetic, Digital and more
Quick preview and add in one click
Free Updates & 24/7 Support
FCPX version 10.3.4 and above
Apple Motion version 5.3.1 and above
Price
Buy The Pack With A Suitable License
Includes the templates for test

You can try the power of this pack

Non-commercial purposes
Make multiple videos, but only for one channel, product

Non-commercial purposes

One monetized Youtube Channel

Free updates

Lifetime License — buy once use forever
Make multiple videos

Commercial purposes

Free updates

Priority support

Lifetime License — buy once use forever
Catalog
All Templates Included In The Pack
Details
Info And Technical Details
info
Sales

681

Last Update

23 October 2022

Created

14 September 2021

Required Version

Apple Motion version 5.3.1 and above,

Any above,

Final Cut Pro X 10.3.4,

File Size

Requires Plugins: No, Software Version: Apple Motion 5, Final Cut Pro X, Resolution: Resizable, File Size: 3.1GB

Resolution

Resizable
Tutorials
Instructions On How To Use The Pack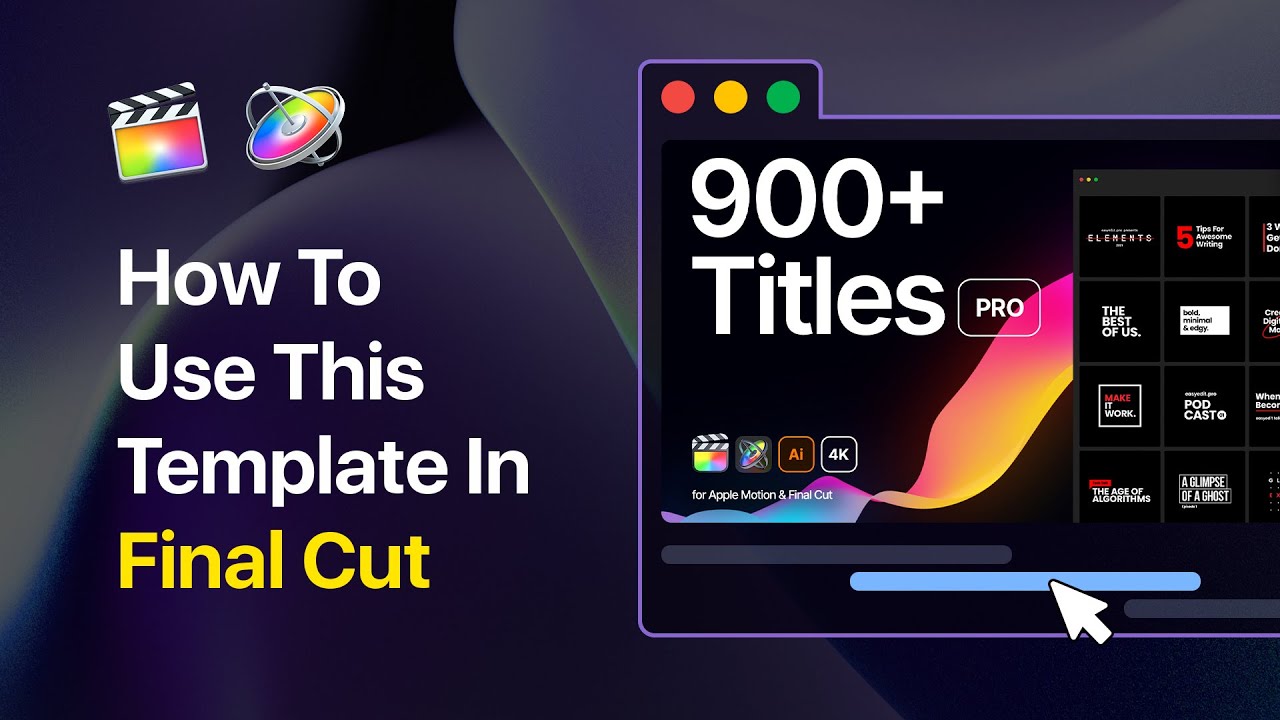 Price
Buy The Pack With A Suitable License
Includes the templates for test

You can try the power of this pack

Non-commercial purposes
Make multiple videos, but only for one channel, product

Non-commercial purposes

One monetized Youtube Channel

Free updates

Lifetime License — buy once use forever
Make multiple videos

Commercial purposes

Free updates

Priority support

Lifetime License — buy once use forever
Cyber Sale: up to $50 off